Day One
Pick a day, any day. Your weekend begins when you're ready. The weekend vibes are calling so wrap up early and pack your bags because all roads lead to Ruapehu – the Central North Island's premier destination for outdoor fun.
Walk#1: Sunset stroll at Ridge Track
First things first. Pop into the Whakapapa i-SITE Visitor Information Centre for some local knowledge and advice on everything you've ever wanted to know about the area. There's an extensive display of the history, geology, and cultural significance of Tongariro National Park as well as lots of helpful information on the walking tracks - including safety information to keep in mind in the alpine environment. The start of the Ridge Track is just 150 metres up the road from here and a great way to get the lay of the land.
Ridge Track: 30–40 min, 1.2 km return
Dine +Stay at Skotel Alpine Resort
With the Tongariro National Park at its doorstep (literally), the Skotel Alpine Resort is as close to mountains as you can get. A true mountainside retreat and New Zealand's highest hotel, you'll find a mix of accommodation options to choose from ranging from superior rooms with a balcony offering the most stunning views and backpacker rooms with an ensuite. Wine and dine at the restaurant and bar or relax in the family-friendly mezzanine lounge. There's also an outdoor spa, sauna, and gym for a well-being boost.
Day Two
Grab a hearty breakfast at the restaurant or bring your own - there are shared kitchen facilities at the Skotel so the choice is yours.
Walk#2: Trek to Tama Lakes
A lesser-known, yet just as incredible, alternative to the Tongariro Alpine Crossing, the Tama Lakes Track is an awesome half-day hike with spectacular views of Mt Ruapehu and Mt Ngāuruhoe towards pristine alpine lakes that will take your breath away. The start of the track is just in front of the Skotel entrance – how amazing and accessible is that? Make sure you pack for alpine conditions and bring warm, waterproof clothing.
Tama Lakes Track:5-6 hr return,17 km return via the same track
Enjoy a full tramping experience with a picnic lunch after your descent from Tama Lakes. Find a spot to enjoy some tranquil moments to take in all the views and refuel for the rest of your day. There are two toilet stops along the way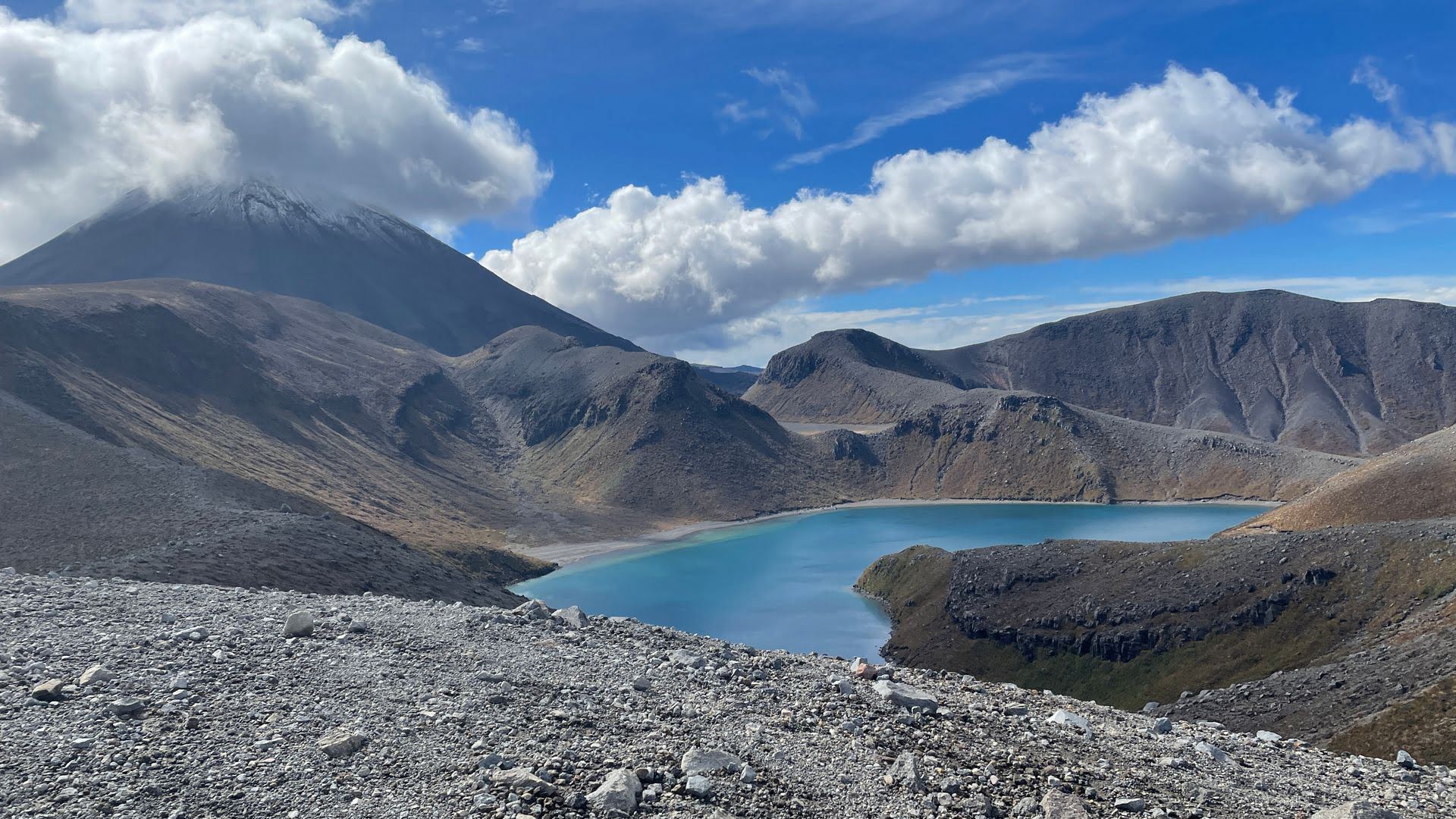 Walk #3: Loopback via Taranaki Falls Walk
Like a two for one special, you can access the Taranaki Falls Walking track as you return directly from the Tama Lakes Track. Once at the junction, it takes a 1hr to return to Whakapapa Village via the very photogenic, 20 m high Taranaki Falls.
Taranaki Falls Track: 2 hr, 6 km loop
Walk#4: Mounds Walk at Sunset
After some rest and relaxation at the hotel, enjoy a sunset stroll to Mounds Walk. Just a short 5 km from Whakapapa Village on State Highway 48, this fascinating walk showcases debris avalanches during Ruapehu's periods of volcanic activity formed thousands of years ago.
Mounds Walk: 20 min return, short walk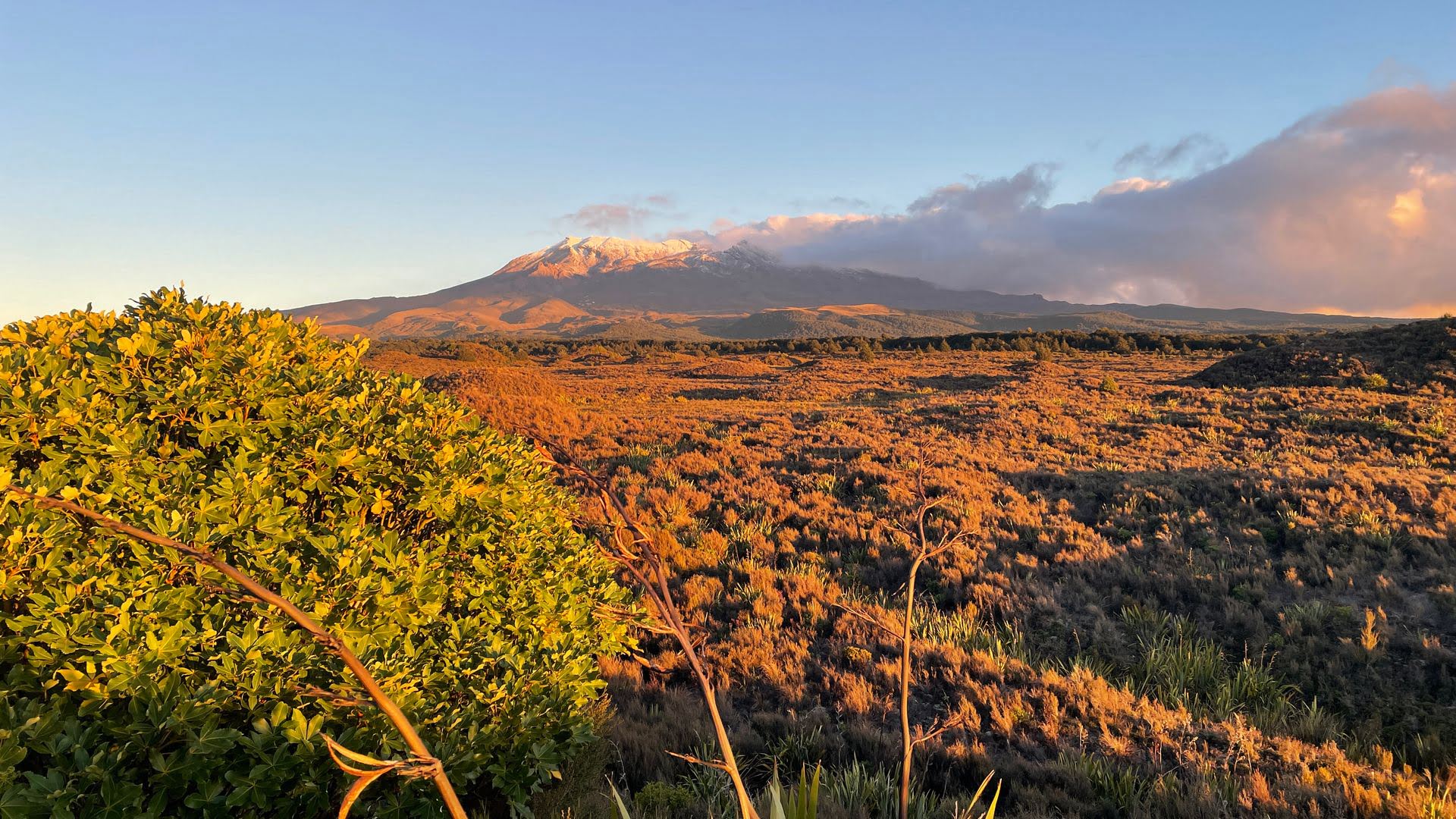 Walk#5: Tawhai Falls Walk at Dusk
Top of the day with a Tawhai Falls, aka Gollum's Pool – the legendary film location from Lord of the Rings. Just 1km up the road from Mounds Walk, you can't miss this hidden gem. There's a small parking area off the side of the road and from here, it's a short stroll through mountain toatoa, beech forest and ancient lava flows until you reach these gorgeous waterfalls.
Tawhai Falls Walk: 20 min return, short walk


Head to National Park and dine at Schnapps

Relax with panoramic views of the central plateau mountains, enjoy the open fire, with great meals on offer and cold beer on tap. Cheers to an epic day!