The Big Bike Film Night - Expired
Powederhorn Chateau, 194 Mangawhero Terrace, Ohakune
|
06 Apr 23
Let the good times roll!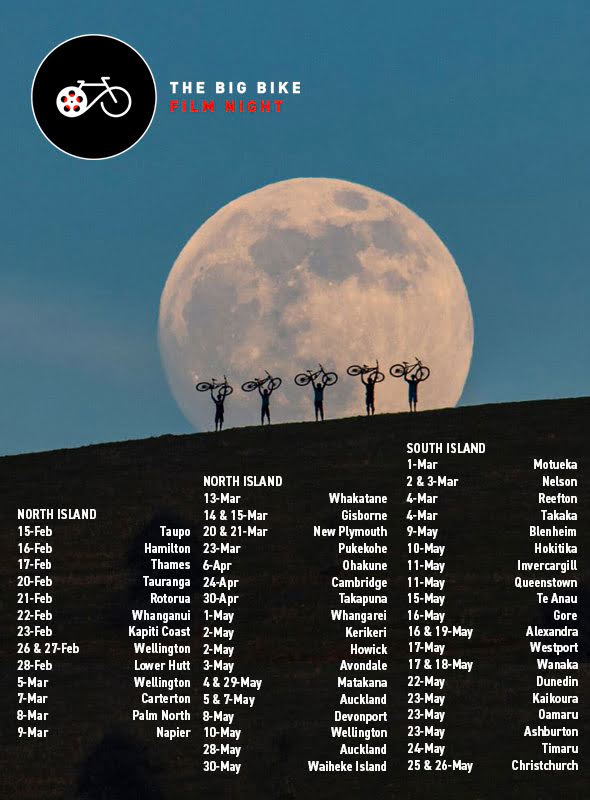 The Big Bike Film Night is riding into town on its mission- bringing the best cycling short films from around the world together for you. Showcasing our 2023 collection that has everything a cycling-centric audience could want- action, drama, humour, and plenty of inspiration; the evening is going to be unashamedly, and utterly, utterly, utterly aimed at the two-wheel devotee!
This year's treasure chest of films includes a delightful young Australian bikepackers learnings from completing a scenic trip to Hell; a visually commanding film set in postcard Tuscany following a 74-year old bicicletta rider whose spirit personifies cycling; a team who have spent five years formulating a dream…and only one way to get it- via packraft and mountain bike, on a pursuit of a first descent on the gnarly lines of Dillon Cone in the rugged coastal Kaikoura ranges; two schools share insights into how they promote active transport within their school community; a tale of a rider with a searing thirst for adventure exploring interior Iceland; putting the 'mountain' into mountain biking - a Scottish highland rider's eyes are opened to the healing power of the bicycle; an uplifting film that celebrates a humble volunteer whose community spirit is inspiring and so are the majestic winter views of the trail where he lives in rural heartland Central Otago; a moving movie that follows a family that chooses to live life to the fullest in the face of adversity; and rounding out the night, find out what happens when you combine an ultra-distance 320 km gravel race and parenting together over a 24-hour period (which is tougher?); ALL in the mix!
These short films are a great reminder of why we love to ride our bikes with films that celebrate the fun, adventure, and inspiration that cycling enables, whatever your ride is.
Fore more info, head here!